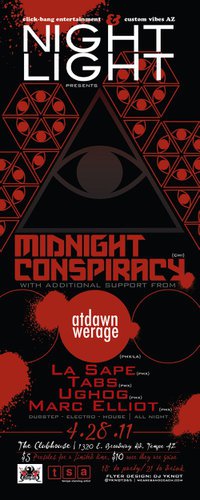 Click-Bang Entertainment, Custom Vibes AZ and Tempe Starving Artists present…
NIGHT LIGHT
One of the fastest growing underground house/electro/dubstep parties to hit Arizona is back! They shut us down before midnight at the mansion, but this time we are back and promise an even bigger party than before that's completely legal! With enough fog, lasers, strobes, and sound to be seen and heard from the moon, this will be a full-on auditory and visual experience unlike anything to have ever graced the Valley of the Sun.
Featuring…
Midnight Conspiracy
[youtube]http://www.youtube.com/watch?v=xlQG1cTgw-Q[/youtube]
http://midnight-conspiracy.com/
http://www.facebook.com/MidnightConspiracy
http://www.youtube.com/user/MidnightConspiracy
Additional support from:
At Dawn We Rage
[vimeo]http://vimeo.com/20717155[/vimeo]
AT DAWN WE RAGE – ENTITLED TWO SIX (original) by at dawn we rage
http://atdawnwerage.com/
La Sape
Flux Pavilion- Bass Cannon (La Sape's Dutch Cannon Bootleg) by LA SAPE
Tabs
Super Stereo – Life Passed Me By (TABS Remix) by TABS
http://www.night-thieves.com/
http://www.twitter.com/TABSdjs
Ughog
Transmission 6 by ughog
theughog.com
Marc Elliot
Mini mixxx by Marc Elliot
http://marcelliot.net/
http://click-bang.com/
The first 50 tickets will go for $5!!! After that they will go up to $10.
The Clubhouse Music Venue
1320 E. Broadway
Tempe, AZ, 85282